MOV
1. Converti MOV in Altri Formati

+

2. Converti Altri Formati in MOV

+

3. Consigli di Riproduzione e Modifica MOV

+
Non sei riuscito a riprodurre i tuo file video anche quando il file MOV (QuickTime) è caricato in Adobe Premiere? Ti è stato inviato un messaggio di errore sul monitor, che dice che il file video non è supportato quando hai provato a spostare, importare o trasferire il file MOV (QuickTime) in Adobe Premiere? Se attualmente stai usando una versione obsoleta di Adobe (per esempio precedente alla versione CS5 di Adobe), forse un aggiornamento della versione di Adobe potrebbe risolvere. Ancora bloccato in tentativi inutili? Forse manca qualche codec necessario o il formato del file video non è compatibile. Perché non fai un altro tentativo con Wondershare UniConverter?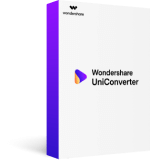 Converte direttamente da MP4 a VOB (DVD-Video), AVI, MKV, MOV e 1000+ altri formati.
Masterizza da MP4 a disco DVD per riprodurre con il tuo lettore DVD a velocità 30 volte superiori.
Conversione a formati ottimizzati preimpostati per iDVD, iMovie, Final.
Modifica i video con le funzioni avanzate di editing video, come taglio, selezione, aggiunta sovrimpressione, sottotitoli, ecc.
Download di video da YouTube e da 1000+ siti di condivisione video.
Sistemi operativi supportati: Windows NT4/2000/2003/XP/Vista/7/8, e Windows 10 (32 bit & 64 bit), mac OS 10.15 (Catalina), 10.14, 10.13, 10.12, 10.11(El Capitan), 10.10, 10.9, 10.8, 10.7, 10.6
Sicurezza Verificata.
5.481.347
di persone lo hanno già ascaricato.
Se hai provato o letto altri articoli correlati, forum o siti con domande&risposte, potresti ritrovarti con le stesse mie conclusioni. La risposta o la soluzione è quella di convertire i tuoi file video MOV QuickTime con il codec appropriato prima di riprodurlo con Adobe Premiere. You can also try to convert the QuickTime MOV files with any video converter alternative that you might have previously installed and see if it could import the MOV file to Adobe Premiere.
Some software can deal with the conversion and you should be able to watch those MOV files on Adobe Premiere. However, there are cases whereby after importing the MOV files, you might notice issues with the video playback. That's also why I'm recommending you the Wondershare UniConverter right now, just in case it comes in handy for you. If you don't need to edit your videos, then there are practically two steps involved.
Come convertire un MOV in un Video Compatibile con Adobe Premiere
Tutorial Video: Wondershare UniConverter - Converti MOV in Formati Supportati da Adobe Premiere
Passo 1 Trascina i tuoi file MOV (QuickTime)
Proprio come qualunque altro convertitore video, puoi facilmente trascinare i tuoi file video in Wonderhsare UniConverter (originally Wondershare Video Converter Ultimate). Le differenze stanno nei termini di ampiezza di formati di file in uscita supportati. Oltre a supportare la conversione di file MOV per Adobe Premiere, puoi anche convertire i file MOV per condividerli o caricarli su YouTube e anche su Facebook.
Passo 2Converti i tuoi file MOV (QuickTime) per Adobe Premiere
Dopo aver importato il video in UniConverter (originally Wondershare Video Converter Ultimate), puoi scegliere l'opzione del formato video sul lato destro dell'interfaccia principale. Poi puoi scegliere un formato video compatibile nel menu a comparsa e clicca OK. Dopo, clicca sul pulsante Converti in basso a destra per far partire la conversione del video.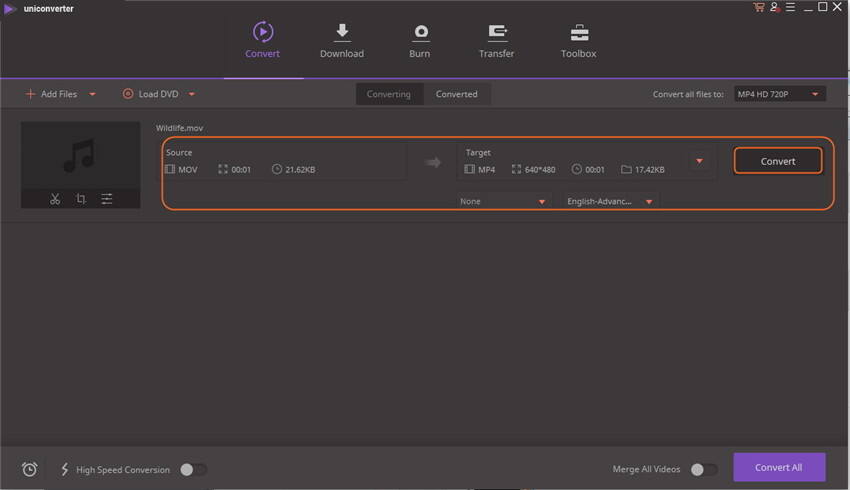 Oltre a poter convertire i tuoi file MOV per Adobe Premiere, puoi anche scegliere di modificare i tuoi file video prima di far cominciare la conversione. Ho inclusi i link dove potrati trovare ulteriori guide per modificare video. Le potrai scorrere a tuo piacimento.
Oltre alle funzioni di editing, puoi anche provare le tue doti di creatore DVD, perché questo particolare convertitore video in alternativa permette anche di copiare e di masterizzare DVD a tuo piacimento. Per esplorare quali altre funzioni abbia da offrire questo convertitore video alternativo, scaricalo adesso! Certamente non ne rimarrai deluso.
Ultimo ma non ultimo, se ti interessa Wondershare UniConverter, lo puoi scaricare gratuitamente e provarlo.